If you are a Visual Website Optimizer user, you will be excited to know about the latest feature we have released which we call as frequently used (conversion) goals. With this feature, while you are creating a new A/B, multivariate or split URL test, we recommend you conversion goals that you are most likely to add in this test. We do this recommendation based on analyzing your previously created tests and which goals you had added for those tests. As you create more tests, we get a better idea on which goals you use most frequently and recommend you the same (to save time). Here's a screenshot of the new feature (note the section which says Frequently used goals):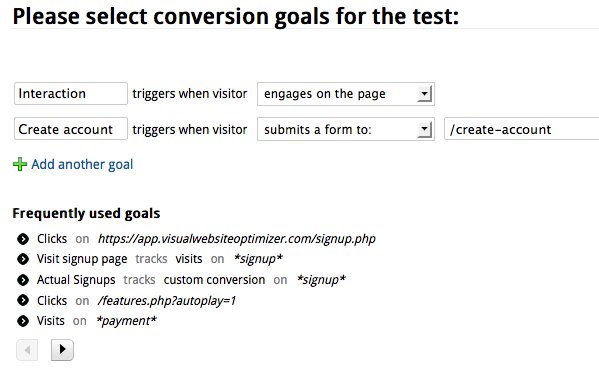 Why use frequently used goals?
The name of new feature is bit of misnomer because we don't actually list frequently used goals but we list the goals you are most likely to add. This is an intelligent recommendation that takes variety of parameters into consideration. We analyze how frequently, how recently and for which A/B tests you had added the goal. The major benefit of this feature is that for any new test that you create, you can easily reuse that goal at a click of a link. No need to type that goal again and no need to add or update any code on your website. This means that you can define standard website goals such as signup, search, revenue, funnel visits, etc. and then simply pick these goals from the list while creating the test.
Note: this feature also works with custom conversion goals which are used if your conversion goal triggers through JavaScript (e.g. if you have a form submitted through AJAX). Obviously, with custom conversion goals, you need to add a code snippet on your site depending on how you triggered the goal. Earlier, you had to update this code for every new test you created. But now, you can simply integrate the custom conversion code once, and then simply reuse it across different tests.
Other new features
We also released a couple of minor new features:
Test thresholds: by default, we declare winning variation if the (statistical) confidence is >95% (here's the math of A/B testing if you are interested). Now from settings, you can change it to any value you want. So if you want to be REALLY sure about results, we suggest increasing it to 99%. If you are happy-go-lucky type, you can even lower it to 80% (although we recommend against decreasing default value of threshold)
Custom Currency (in reports): with revenue tracking feature, you can start tracking revenues in reports. By default, the currency shown was US Dollar symbol ($). Now you can customize it to show any other symbol.
Google-bot exclusion: we have blogged in the past that there is no effect of A/B testing on SEO. This still holds true as Google and other search bots do not execute JavaScript hence do not see variations you are testing. But we believe that, in future, Google and other search engines may come up with a bot capable of executing JavaScript. Hence, just to be sure, we have now added a check in our JavaScript so that all search bots get excluded from the test.
Hope you like the updates! There are couple of other major features that we are currently baking. Our whole team is very excited to continuously improve Visual Website Optimizer. Please do let us know if you have a particular feature request.