Archive A/B test results by automatically generating screenshots of variations
A multivariate or A/B test doesn't end when you stop it. It is important to retain the test if you decide to revisit it later. A good archive of past tests is a powerful information repository; an organization should know what it had previously tested and what the results were. The knowledge derived from previous tests can be of great use in deciding what to test in future. For any A/B or multivariate test, you should aim to record the following before completely stopping it:
Original hypothesis of the test
Test Results
Discussion about test results
Screenshots of variations that were tested
You will thank yourself for recording these four pieces of information. Nothing can be more frustrating than trying to figure out what exactly did you test a month ago! Fortunately, with VWO, this process is mostly automatic. It always retains the test results and the only manual part, of course, is that you need to write down your thoughts in the Test Notes section.
New Feature: automatically generate screenshots of test variations
Earlier you had to depend on preview feature to see what did you test in previous tests. The preview feature will only work perfectly (and show original variations) if your test page didn't change. But that is seldom true! (In fact, after a successful test, you will change your test page).
Now, the new feature allows you to automatically generate full-page screenshots of variations and then those screenshots are stored on our servers so that you can revisit what you were testing any time in future. In the preview screen, here is how you take the screenshots: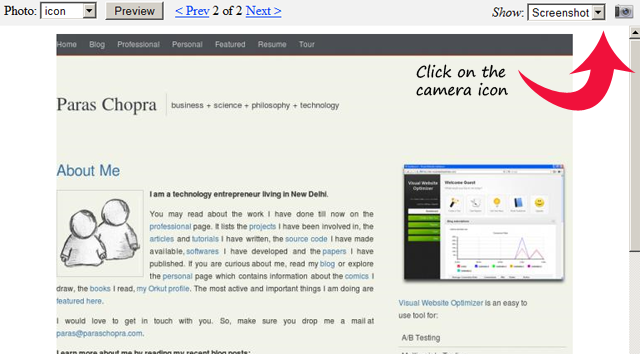 The screenshots will also be automatically generated when you stop the test, so there is no need to manually do it. Thanks to this VWO's new feature, now you never have to worry about remembering what were you exactly testing last month!
We hope this new feature helps you in archiving your A/B and multivariate tests. We have been thinking of extending this feature by including tiny thumbnails within VWO reports and also in future these screenshots will be used while generating a PDF report! Your feedback and feature suggestions on screenshot feature will be great.