Analyzing User Behavior for Smarter A/B Testing | Use Cases for Travel Industry
Shivangi
With a love for exploring the newest cafes in town, Shivangi is a tarot dilettante and an authority on wine among friends. She works as a copywriter at VWO.
Knowing how your users interact with your website helps you learn what motivates or stops them from converting. Naturally, analyzing user behavior (or visitor behavior) is the first step that enterprises operating online should take toward conversion optimization.
Travel enterprises, particularly, majorly run their business online. Studying and understanding visitor behavior is, therefore, essential for them. The challenge for them is to convince users persistently on each step of the conversion funnel. Only a thorough understanding of user pain points and interest areas will help you improve customer experience.
The tools listed below help in analyzing users behavior on websites effectively:
Heatmaps:

Highlight the click pattern of your visitors. See which areas on your website win maximum/minimum attention.

Visitor Recordings:

Playback your visitors' actual page interactions and identify the drop-off points.

Form Analysis:

Discover what slows down form fills or what causes lost conversions on forms/form fields.
In this post, we have analyzed a few case-studies from the travel industry and suggested use cases for heatmaps, visitor recordings, and form analysis. The post shows how the tools can help create data-driven hypotheses for A/B testing, and therefore can help travel enterprises optimize smarter.
Heatmaps Use Cases for Travel Industry
Heatmaps help you find areas on your website where the visitors have clicked the most.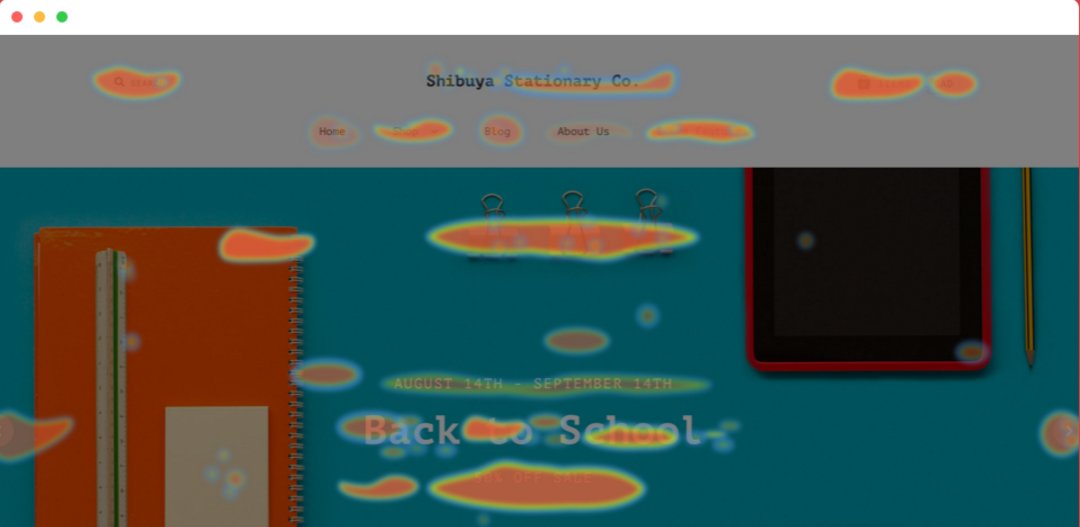 Listed are some heatmaps-specific use cases for travel enterprises.
Use Case 1
Company: KRAS.NL, a Dutch travel and tour company
Objective: To increase sales from new visitors.
Hypothesis: Revamping the footer on the home page such that it helps new visitors understand all that the site offers will increase sales from new visitors.
Test: An A/B test was run between the control and a variation, with the variation containing a footer. This footer displayed all products for ease of search. It was designed to aid new visitors who weren't aware of all things that the site offered.
Test Results: Version B increased new visitor sales by 53%. However, it reduced sales from returning visitors by 14%. As a result, KRAS.NL now provides the option of suppressing the footer for returning customers. Read their entire case study here.
Control: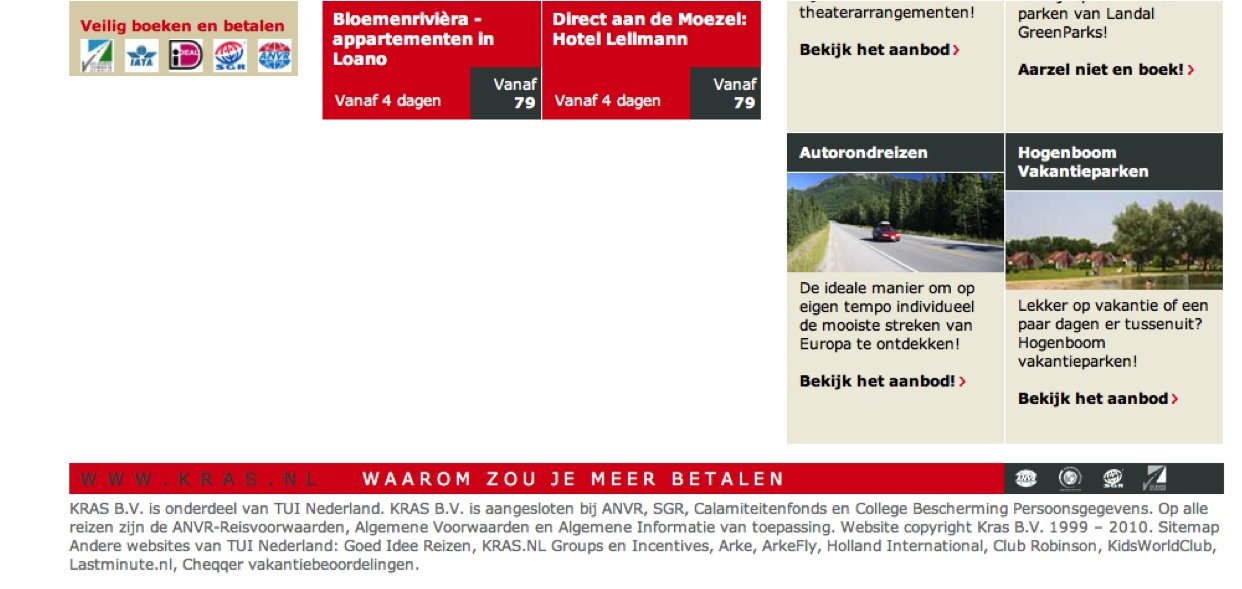 Variation: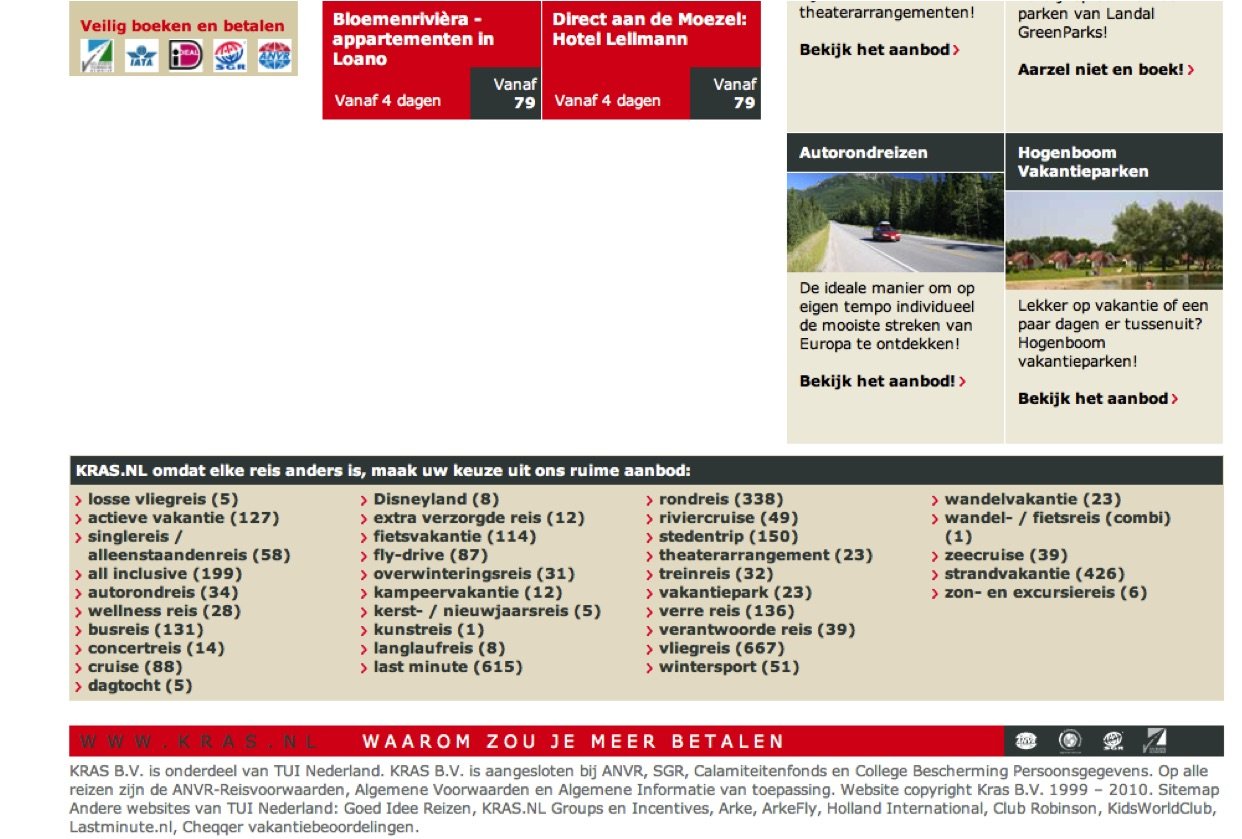 Heatmaps Analysis: Further to designing the footer, KRAS.NL could have taken up the activity of analyzing user behavior or interactions with it, using heatmaps. As the footer showcased a list of offerings for new visitors, KRAS.NL could have studied which elements/offers got most/least clicks and could have optimized the footer accordingly. Using scrollmaps, KRAS.NL could find out how many people reach the footer and understand if it was at all a good idea to optimize the footer.
Moreover, KRAS.NL could have studied the number of clicks for each element on the footer. They could have made the elements on the footer that were fetching more clicks, more prominent.
Use Case 2
Company: PlanetAmex
Objective: Increase number of responses from visitors interested in international first class and business class airline travel.
Hypothesis: 91% of PlanetAmex's visitors are new visitors. The challenge was that these new web prospects on PlanetAmex weren't spending enough time on the website. PlanetAmex hypothesized that by improving the readability of content on the home page and making the logos prominent, it will be able to convert new customers into leads.
Test: With the help of WiderFunnel Marketing Optimization, PlanetAmex conducted a LIFT analysis for their home page. Thereafter, they designed three variations of the home page such that each variation addressed one drawback of the control version.
Variation 1: Credibility
The LIFT analysis showed that the home page had weak credibility because the logos were hidden and value proposition appeared way below the fold. Variation 1 clearly mentioned the headline: Discount First Class & Business Class Airfare. The visuals around the headline were done away with. Call-to-action buttons were placed both above and below the fold. Logos were made prominent and were shifted to the right of the page to lend more credibility.
Variation 2: Hero Image of a Business Traveler
This variation had an image of a business traveler on the upper-left corner of the page. Call-to-action buttons were shifted to the left, below the hero image.
Variation 3: Offer
In this variation, the hero image of the business traveler was shifted to the right of the page. So the "Discount First Class & Business Class Airfare" offer appeared on the left.
Test Results: Variation 1 won with a 48% lead generation conversion rate increase for phone calls. To learn more, read further about the case study in this post by Widerfunnel.
Control: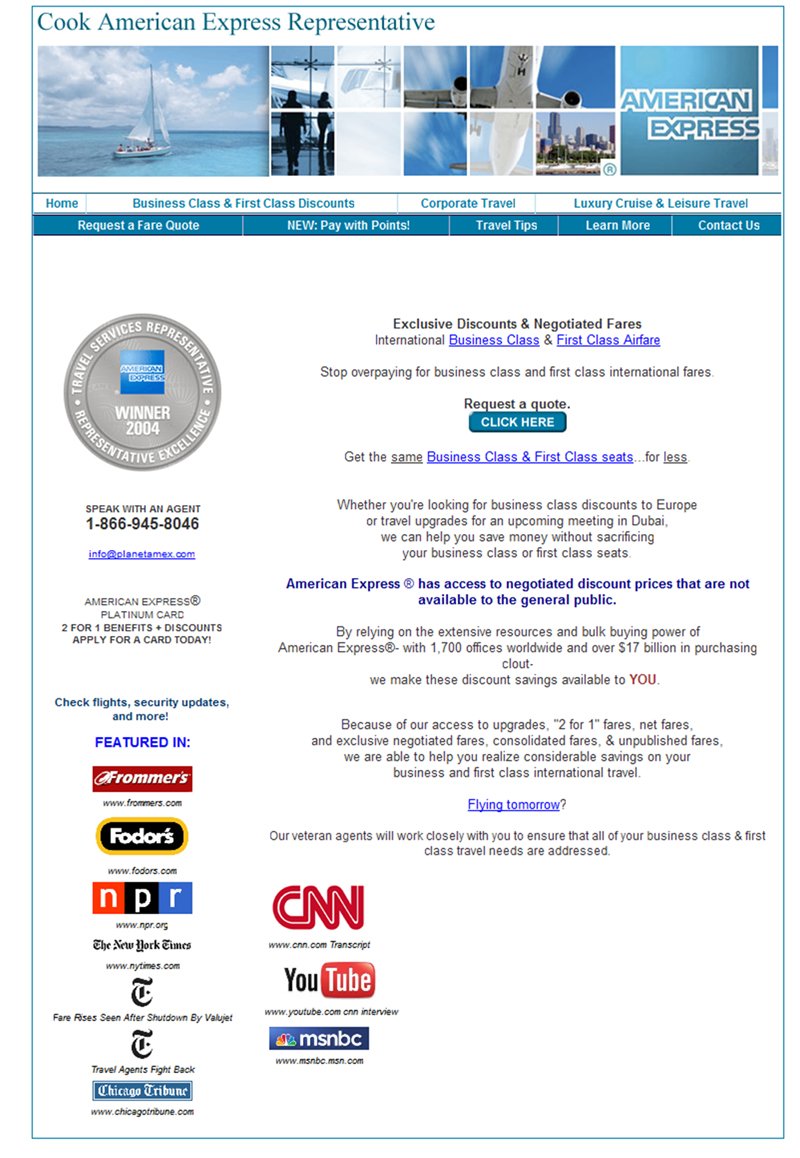 Variation: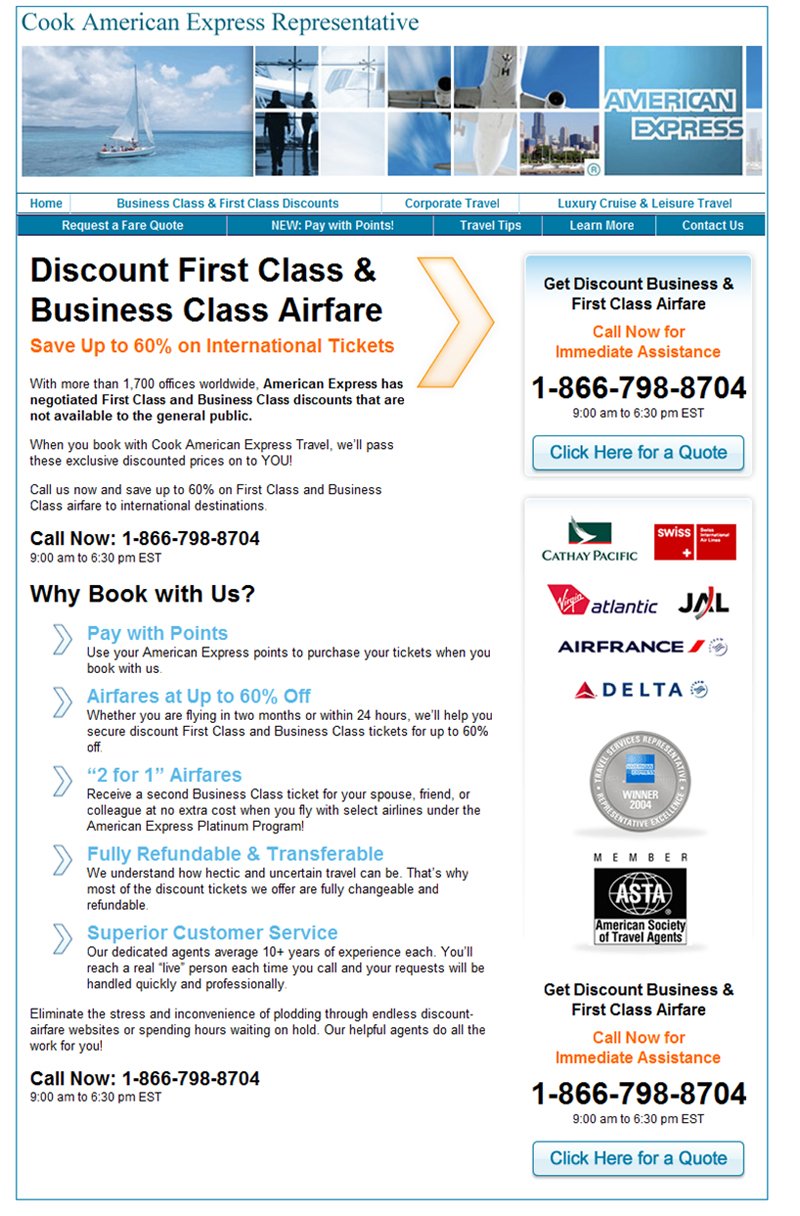 Heatmaps Analysis: Widerfunnel studied clarity of elements on the home page, based on factors such as eye flow, calls-to-action, and copywriting. A heatmaps/eye flow analysis could have helped Cook Travel find out:
The depth of the page till where visitors actually scroll.

The areas on the page to which users pay maximum and minimum attention.
Using heatmaps, Cook Travel could have analyzed whether the trust seals on the home page were actually getting noticed or getting enough attention from the visitors. Identifying the exact areas on the home page where users pay maximum attention could have helped Cook Travel to arrive at their hypothesis faster.
Visitor Recordings Use Case for Travel Industry
Visitor recordings show behavior of individual users on your website during a particular session. This tool helps you see each action that a visitor takes on your site—clicks, scrolls, drops-offs, and so on.
You can read more about visitor recordings here.
Use Case 1
Company: Bizztravel Wintersport, a part of Bizz Travel Group
Objective: To improve the navigation design such that searching and navigating the site becomes friction free.
Hypothesis: There were a number of problems related to navigation that Bizztravel wanted to address. For example, visitors browsing their site did not know that the village of Flaine is located in the region of Le Grand Massif. To find the Flaine page, a visitor had to click through an average of 5 regions. In such a navigation system, visitors were getting lost during a seemingly simple task of finding a vacation. Bizztravel hypothesized that creating a clear and simple navigation menu would allow visitors to reach their desired vacation faster and reduce early exits caused by frustration or distraction. The idea was that the new header would make it easier for users to navigate, and therefore increase conversion rates.
Test: A variation was created with a new header that was redesigned for better navigation. It also had a drop-down menu, which allowed visitors looking for information such as the "Top 10 skiing destinations in France." These changes reduced friction and clutter of information, as displayed in the control, and made it easier for users to navigate.
Test Results: The primary goal of this A/B test was to track visits to Bizztravel's "Thank You" page (Bedankt). The winning version with the redesigned navigation got 21.34% higher goal completions with a test result confidence level of 97%. Read the entire case study here.
Control: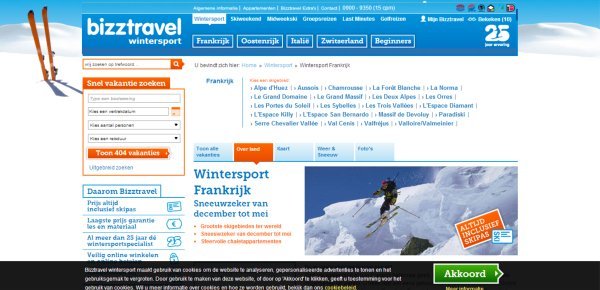 Variation: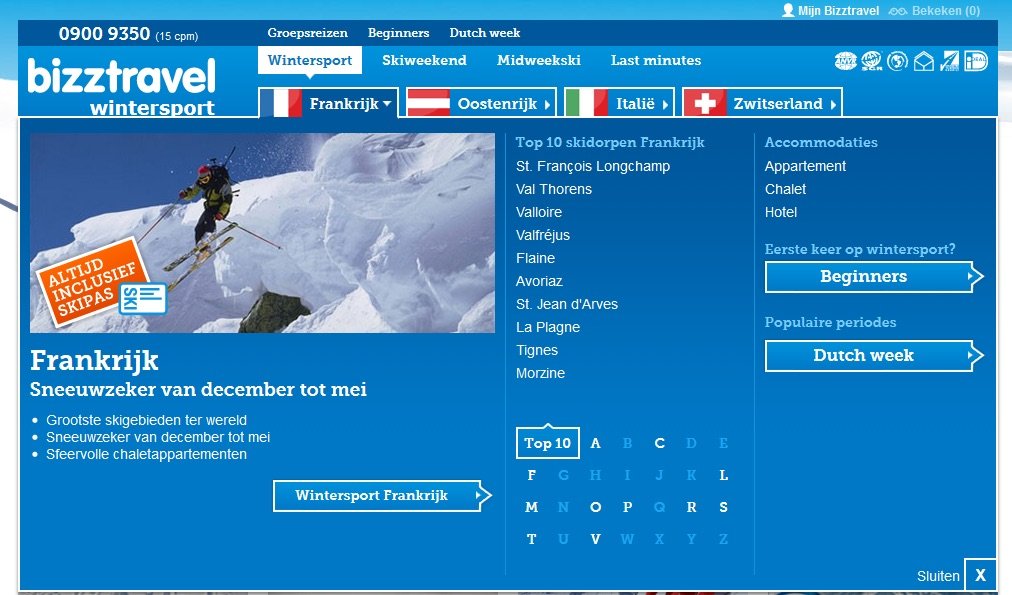 Visitor Recording Analysis: The primary goal was to track visits to Bizztravel's "Thank You" page. Therefore, running a visitor recording for visitors who landed on the home page but did not arrive at the "Thank You" page could have helped Bizztravel identify the drop-off points on their home page as well as in the conversion funnel. This would have helped them analyze and fix the points of friction in the journey of a visitor who wants to book a vacation. Studying visitor journeys by playing their recordings could have helped Bizztravel arrive at a hypothesis faster.
Use Case 2
Company: Vegas.com, a travel and tourism website
Objective: To improve mobile performance on a number of key metrics.
Hypothesis: Vegas.com compared its mobile with desktop user behavior and found out that mobile traffic was underperforming to a great extent. Their mobile site was converting less than 3% of its visitors and had a 50% abandonment rate. However, with 7% of its overall traffic already coming from mobile users, Vegas.com hypothesized that by introducing mobile-specific content, it will be able to target and convert mobile users better.
Test: Vegas.com ran a controlled A/B test and measured a variety of key user behavioral metrics. They discovered that mobile users benefit from content tailored specifically around mobile devices.
Test Results: The mobile-optimized version won. Some of the improvements that Vegas.com achieved were:
22% reduction in the bounce rate

16% increase in page views

14% increase in hotel searches

Double-digit lift in the conversion rate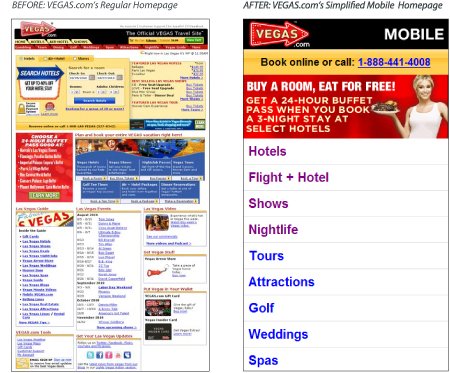 Visitor Recording Analysis: As the idea was to provide an optimized experience to mobile users, Vegas.com could have further run visitor recordings on their mobile-optimized version. Doing so would have helped them:
Study the current navigation pattern of users from home page to category pages to bookings page.

Identify the drop-off points and bottlenecks on this user navigation path.
Accurate data about the entire user journey on their website could have helped in further optimization of user experience on their mobile site. For example, visitor recordings could have helped playback the sessions of visitors who arrived on the mobile home page of Vegas.com but did not complete the checkout. The visitor recordings could have highlighted the drop-off points on the website such as registration forms or the checkout page.
Form Analysis Use Cases for Travel Industry
Form analysis can help identify where visitors drop off on the form, the fields they hesitate to fill, and what slows down form fills. You can read more about form analysis here.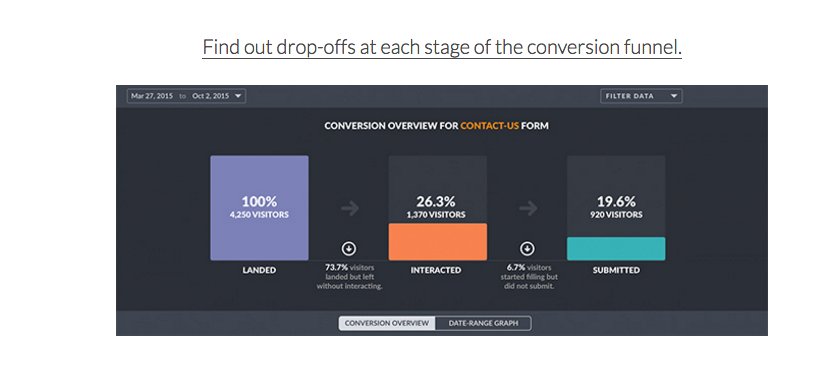 Use Case 1
Company: Expedia, a leading brand serving the global online travel industry
Objective: To improve the conversion rate on the form on the checkout page.
Hypothesis: The form on Expedia's checkout page asked users to fill all their billing and travel information before they press the Buy Now button. One of the fields on the form contained "Company" as an optional field. Expedia found that customers were filling their bank name instead of their company name. Such instances were creating confusion and hindrance in the entire form-filling process.
Test: A variation was created wherein the Company Name field was altogether deleted from the form.
Test Results: Removing the form field "Company Name" helped the company gain $12 million in profit a year. For more information on this case, read this post.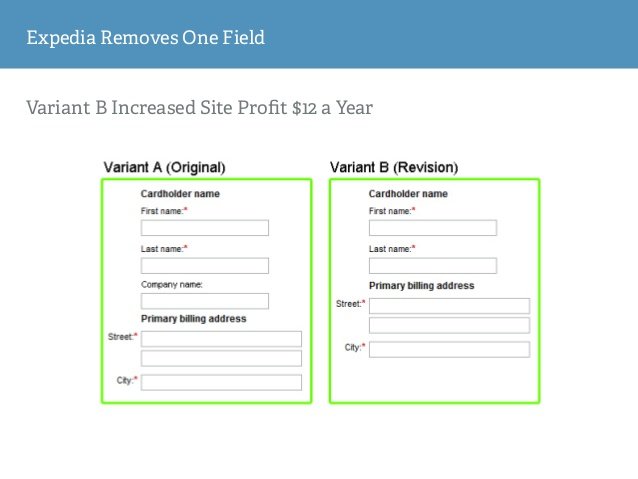 Form Analysis: By simply removing one form field that was causing confusion for users, Expedia gained a profit of $12 million per year. Further running a form analysis could have helped them study user interactions on individual fields in the form. A form analysis could help them obtain information such as:
Hesitation time on a field

Number of times a field was refilled

Number of drop-offs on a field
…and so on
For example, the data obtained from form analysis for Expedia could study the total time spent on the checkout form. If people were spending more than the "desired time", Expedia could have probably introduced a drop-down option with fields like State to reduce the time spent on filling the form, making for another testing hypothesis.
Conclusion
Visitor behavior tools and techniques help analyze both aggregate and individual user behavior. These tools such as heatmaps, visitor recordings, and form analysis can help enterprises identify pain points in their visitors' journeys. Although this post talks about use cases only from travel cases, visitor behavior tools can be leveraged by any online enterprise.
How did you like the post? Give us a rating and drop in a line or two in the comments section.