A/B testing eCommerce shopping store – integrating VWO with BigCommerce
We're big fans of BigCommerce, a hosted shopping store solution that makes creating and running online stores a really simple job. In fact, just like our motto "World's easiest A/B testing tool", their motto is "Easiest way to sell online". That is why we decided to produce a step by step tutorial on how to integrate VWO with BigCommerce.
Bigcommerce is also one of our customers and they love VWO and recommend it to their users!
How to use VWO on your BigCommerce Store
First, the obvious steps. If you haven't signed up for VWO or BigCommerce yet, please do so. Both services offer free trial (without requiring a credit card) so all you need is to fill a short signup form in order to get going.
Once you have your BigCommerce store ready, next step is to create A/B split test using VWO. Our A/B test designer offers WYSIWYG editor and drag-drop resizing & moving features. Additionally, you can always create a multivariate test too. See screenshot below on how test designer looks like (with BigCommerce store loaded):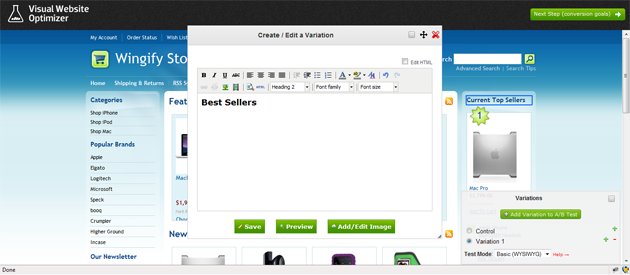 After creating the test, you get a simple code snippet such as below:

Now, all you need to do is to copy-paste this code to HTMLhead.html file of your BigCommerce template. See an example below: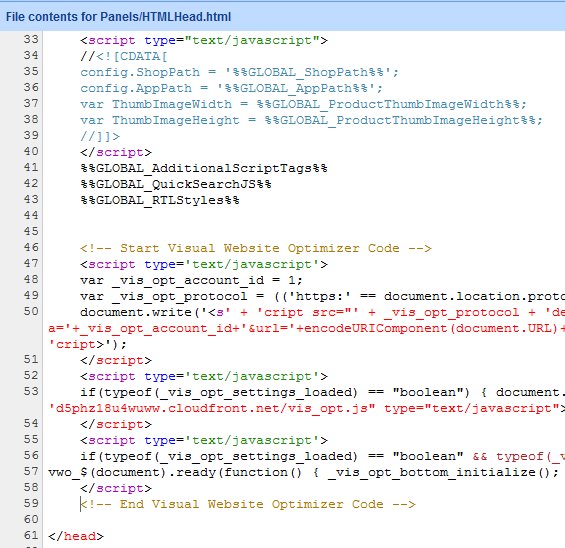 That's it. You are all set to run the best A/B testing tool on your shopping store!
Following are some of the salient benefits of using VWO on your eCommerce site:
You only need to add code in your templates once. (After that you can create an A/B test on any page of your store without requiring to upload any code again)
You get integrated heatmaps and clickmaps.
Easy to use A/B test designer (no need to know HTML!)
I hope you like this new integration of VWO with BigCommerce. In case you are looking for ideas to kickstart your A/B testing, have a look at our eCommerce case studies (in some cases sales have been increased by as much as 20%).